Elliptical machine and Exercise Bike machine are aerobic Fitness Equipment, all can achieve the purpose of improve cardiopulmonary function, reduce the fat, but to understand the differences of two GYM Equipment will help you to better determine which solution is best for you.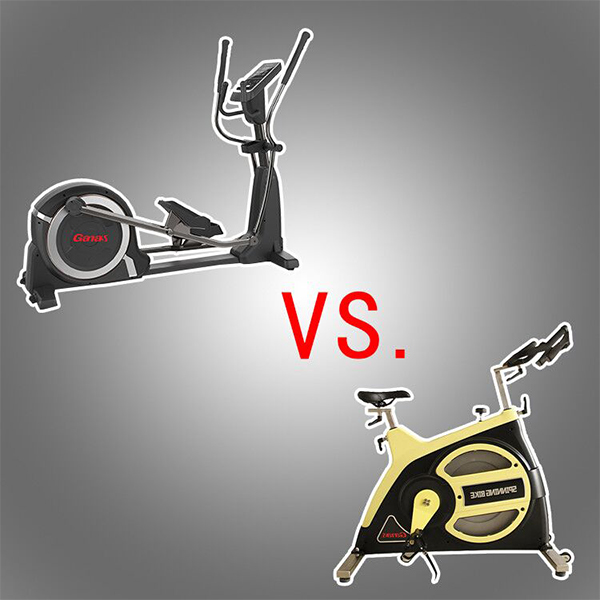 Exploring the Elliptical
Elliptical machines are unique in that they allow you to work on your legs and arms while also improving cardio. To use an elliptical machine, you simply stand in an upright position and hold onto the handles. You then slide the footrests back and forth while pulling and pushing the handles with your arms.
You can choose to place more of an emphasis on either your arms or your legs as part of your workout routine. Or, if you choose, you can release the handles completely as you work on your leg muscles and engage your core muscles through balance.
Elliptical machines typically come pre-programmed with a variety of workout routines that allow you to target different fitness goals. While some programs target your heart rate in order to burn calories, others adjust the resistance to simulate climbing hills or other activities in order to work out different muscle groups.
By gliding your feet in the backward position or adjusting your body in various ways, such as squatting as you workout, you can further target additional muscle groups.
Exploring Exercise Bikes
Is actually used in the traditional movement on a Exercise Bikes stationary bike collectively, as a more traditional fitness equipment to homes and businesses.according to the different methods of its resistance can be divided into different name.
Such as wind resistance on a stationary bike, magnetic control on a stationary bike, fluid resistance, etc., on a stationary bike because of its resistance can be adjusted on a stationary bike, to control the rhythm according to his be fond of, usually for young and old.
We are Gym Equipment supplier , If you want to buy gym equipment pls contact us