QUESTIONS TO CONSIDER FOR SUCCESSFUL GROUP TRAINING
Scheduling
Choosing class formats in a group training schedule is based on many variables. When creating ours, we make sure all types of classes are available at various times of the day. When scheduling classes, consider:
· What class formats to offer?
· When to offer them?
· How many of each format to offer?
· What days and times to offer them?
· How to achieve efficient space utilization?
Accommodating members with different work schedules and family life is key to:
· Getting people who have never tried a group fitness class to participate
· Keeping them interested in trying more than one format of the classes you offer
In order to answer these questions and achieve positive results, we find that incorporating frequent class format changes in our monthly group training schedule while continuing to offer classes on multiple days and times, works best. For example, it is extremely important to pay attention to group training trends. What`s popular now? What`s going out of style? What times and days are popular? Take notes, and speak to members. Pay attention to these details to create a desirable group training schedule.
Cultural/Social Aspects
Communicating the positive culture and social aspects associated with group training to members who prefer working out alone can be tough. However, by introducing them to the concept of group training, you can help them experience being a part of something bigger and more motivating. Group fitness classes exude camaraderie, positivity, and serve as a welcome invitation for people of different ages, backgrounds, and ability levels to come together in one inclusive experience to move with passion and intention, all without judgment or expectation.
Many exercisers struggle with accountability. The fact that group fitness classes occur on scheduled days and times creates a motivating structure around physical activity, even for those who struggle with workout consistency. Having the opportunity to choose a class and sign up in advance creates a greater sense of accountability that enables you to plan your day around your workout (and your health!). Additionally, an effective and dynamic group training program serves as a valuable retention tool. Members keep coming back to work out with their friends with greater potential to form bonds.
We are creatures of habit and many members like to attend the same classes they become comfortable with, and with people they have come to know. We love seeing members of all ages and lifestyles form relationships. We also feel social media adds to community building and strengthens it within the group. We suggest sharing photos and videos of members engaged in group fitness training and class formats on your Facebook page and on other social media platforms.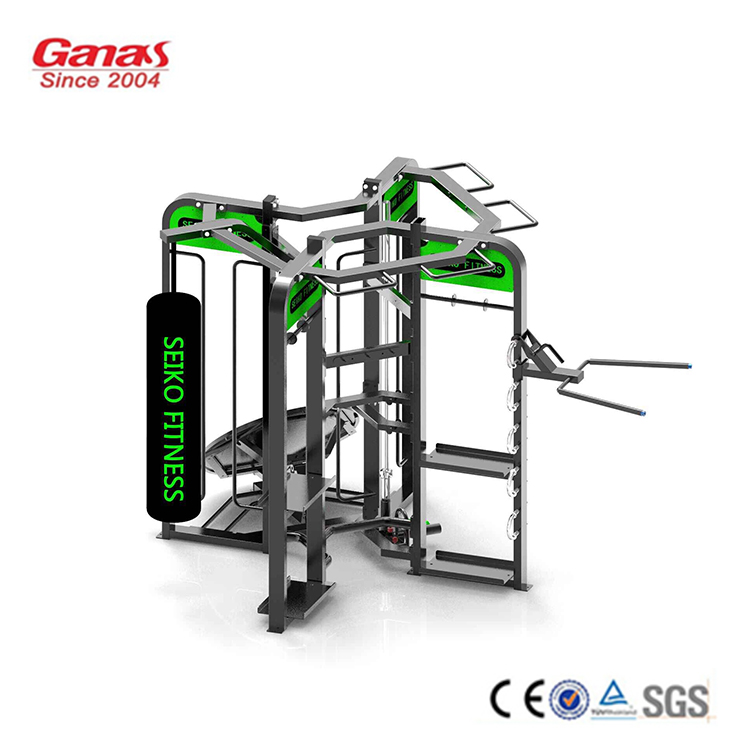 Group Training in the Future and Battling Budgets
For an all-inclusive club, members often feel there should be an undefined number of classes available, which can present a challenge with limited budgeting. How do you effectively overcome potential budget issues, especially as clubs are competing to meet the demands of discerning members?
The answer: Know your strength and use that as your selling point. What is the strongest attribute about your group training? Your variety? Your scheduling? Your instructors? Find what your strength is and run with it. We have found that our variety of formats is our greatest strength.
As the appeal of group training began its rapid expansion among studios in our region, we recognized its potential among our diverse clientele. We researched ways to incorporate it into our multipurpose environment. Our efforts landed with the idea of converting one of our underutilized studios into a small group training studio featuring the Life Fitness SYNRGY360 system which same function with GANAS C360A ,GANAS is a leading GYM Equipment manufacturer in China since 2004.
From there, we were able to integrate this piece into both our group fitness and group training options.
Group training with GANAS C360A is just one of more than 50 group fitness classes we offer. We believe that variety in group fitness class size, format, and scheduling is extremely important for our members. The class formats we offer range from yoga, to cycling, aquatics, dancing, and more. We believe by incorporating a variety of classes, we are able to offer a high energy and fun workout experience for everyone.
If you want to buy equipment for your gym, pls feel free to contact us!
Contact Ganas Ms CoCo Liu:
Tel/WhatsApp: +86 13434225551(Wechat)
Email : ky015@ky868.com
Address:No. 15, Huasheng North Road, Xicheng Industrial District, Renhe Town, Baiyun District, Guangzhou, Guangdong,China